Valve Wizard fits most Continental (and Millennium) engines. The current list is:
O-346
O-470*
IO-470*
IO-520
TSIO-520*
IO-550*
*Certain engine series variants are not compatible with the current line of Valve Wizard tools. Click here to download a PDF list of incompatible series variants.
©Jollytime Tools 2017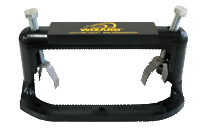 Continental Angled (CA-1) $149
Shipping and handling fees are based on shipments within the continental United States. Hawaiian, Alaskan and International orders may require a supplementary shipping surcharge.